Bühler Hartmetall GmbH
The Bühler Cutting Tools company was founded in 1971 by Erwin Bühler as a tool vendor.
Mr. Bühler, educated as a master toolmaker, was already able to apply ten years of experience in project consulting.
1971 to 1974, working closely with the ISCAR company, the product range emphasized cutting tools.
1978, the first tool that was engineered and produced in-house was brought to market.
1979, the company converted to GmbH (limited liability corporation).
1982, purchase of the first in-house machine tools to produce Bühler Cutting Tool tools.
1984, beginning of production decentralization. Bühler Hartmetall GmbH is to remain a vendor, with all the advantages of flexibility, but still have access to a flexible manufacturing operation.
The company headquarters remain in Geislingen an der Steige. The central distributing warehouse is also located here.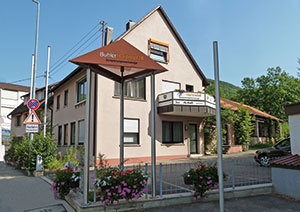 Bühler Hartmetall GmbH (Bühler Cutting Tools) Today, the Bühler Hartmetall GmbH is a modern service center for high-end tools for the turned components industry, which is emphatically confirmed by the increasing demand from our customers.
The turned components industry, which is under enormous cost pressures, finds not only the right tools with us, but also well-founded advice on rationalization in the application of leading-edge metal cutting technology.
The main tool areas are:
Centering and end facing tools, radial facing slide tools, flat form tools, and parting and grooving tools for use in multi-spindle lathes, rotary transfer, disc transfer, and linear transfer machines, machining centers, and centering and end facing machines.